Amsterdam is a fun city in the Netherlands. It is famous for its beautiful canals, spectacular bikes and colourful tulips. You can visit the Rijksmuseum to see amazing art like Rembrandt's paintings. Don't miss the Anne Frank House for a history lesson. People in Amsterdam are friendly, and you can try delicious Dutch pancakes. The city is a mix of old and new with historic buildings and a modern vibe. This is a top spot for tourists, so hop on a canal cruise and enjoy the ride. Amsterdam is all about adventure and good times.
In this blog, we'll guide you through Amsterdam's top attractions.
1. Amsterdam Canals: Iconic City Charm
Amsterdam's canals, they're like the heart and soul of the city. You can't go without loving them. In fact, Amsterdam is often called the 'Venice of the North' because it has more canals than any other city in the world, and they cover a large portion of the city – almost a quarter!
But the really cool thing is that each of Amsterdam's canals has its own unique charm. If you want to see the most beautiful, classic canal homes, you have to head to the 'Golden Curve'. It's an area stretching along the Herengracht, and it's absolutely stunning.
The best thing to do in Amsterdam is to take a boat ride on the canals. It is like a tradition for tourists. You get to see the city in a whole new way and learn cool things about its history and beauty.
But if you don't like boats, no worries. You can just walk along the canals. It's fun, and you can find great shops and cozy bars to visit. So, whether you like water or not, Amsterdam's canals have something amazing to offer everyone. You should really go see them when you're in town.
2. Amsterdam's Cycling Culture
The streets of Amsterdam are buzzing with bicycles, and it's a big part of the city's charm. There are bike lanes and scenic routes everywhere in the city, making it extremely easy and safe to ride.
It's not just a mode of transportation, it's a lifestyle. You'll feel like a true Amsterdammer as you walk through history, culture and beautiful scenery. Explore the city at your own pace and get a real taste of what makes Amsterdam so special.
3. Amsterdam Tulips: An Explosion of Colours
Like the rest of the country, tulips are very popular in Amsterdam. If you're visiting in spring, don't miss the stunning Keukenhof Gardens, they are world famous, where millions of tulips create a mesmerizing floral scene.
You will see millions of tulips of every color and it is like a dream. This is the best place to enjoy the beauty of tulips and it is very easy to reach. Don't miss it.
4. Rijksmuseum : A World-Class Art Museum
The Rijksmuseum is the top art museum in the Netherlands, and it's in Amsterdam. It's all about Dutch art and history. Inside, you'll see famous paintings like Vermeer's "Milkmaid" and Rembrandt's "Night Watch." More than 2.5 million people visit the Netherlands every year to experience the beauty and history. This is a great place to visit for everyone, where you can learn about Dutch culture, art and history in a really fun way.
The Van Gogh Museum in Amsterdam is about the famous artist Vincent Van Gogh. Inside, you'll see his amazing paintings, such as "Starry Night" and "Sunflowers." It's like taking a journey through his life and art. You will understand how he saw the world and how he portrayed it. It is a place to realize their emotions and creativity. If you like art or want to know more about this interesting artist, it is a great idea to visit the Van Gogh Museum.
6. Dam Square: The Historic Heart of Amsterdam
Uncover the rich history of Amsterdam's central and iconic location, Dam Square. This historic square has witnessed many important events over the centuries, reflecting the development of the city. Originally a 13th-century dam on the River Amstel, it developed into a bustling marketplace, a focal point for political demonstrations, and a venue for royal ceremonies.
Today, Dam Square stands as a lively meeting place for both locals and tourists. Surrounded by historical sites such as the Royal Palace and the National Monument, it is a must-visit for those wishing to explore its past while embracing Amsterdam's modern energy. Conveniently, Dam Square is located close to the Central Railway Station, making it easily accessible.
Dam Square is a bustling centre, with many nearby attractions and sites, including:
A. Madame Tussauds Amsterdam
Madame Tussauds is a famous wax museum located in the center of the city of Amsterdam. It is filled with lifelike wax figures of celebrities, historical icons and film stars. Visitors can take photos with these figures and feel as if they are meeting their favorite celebrities.
B. Nieuwe Kerk (New Church)
The Nieuwe Kerk or New Church in Amsterdam has been around for 600 years, having been built in the 15th century. It is famous for its beautiful Gothic design and for being a place where kings and queens were crowned. Today, it is not a church but a venue for exhibitions and events, enjoyed by visitors and locals.
C. Magna Plaza Shopping Centre
Magna Plaza is a shopping Centre in the center of Amsterdam, Netherlands. It is housed in a gorgeous historic building and offers a variety of shops and boutiques. Visitors can find clothing, accessories and more while enjoying the mall's stunning architecture.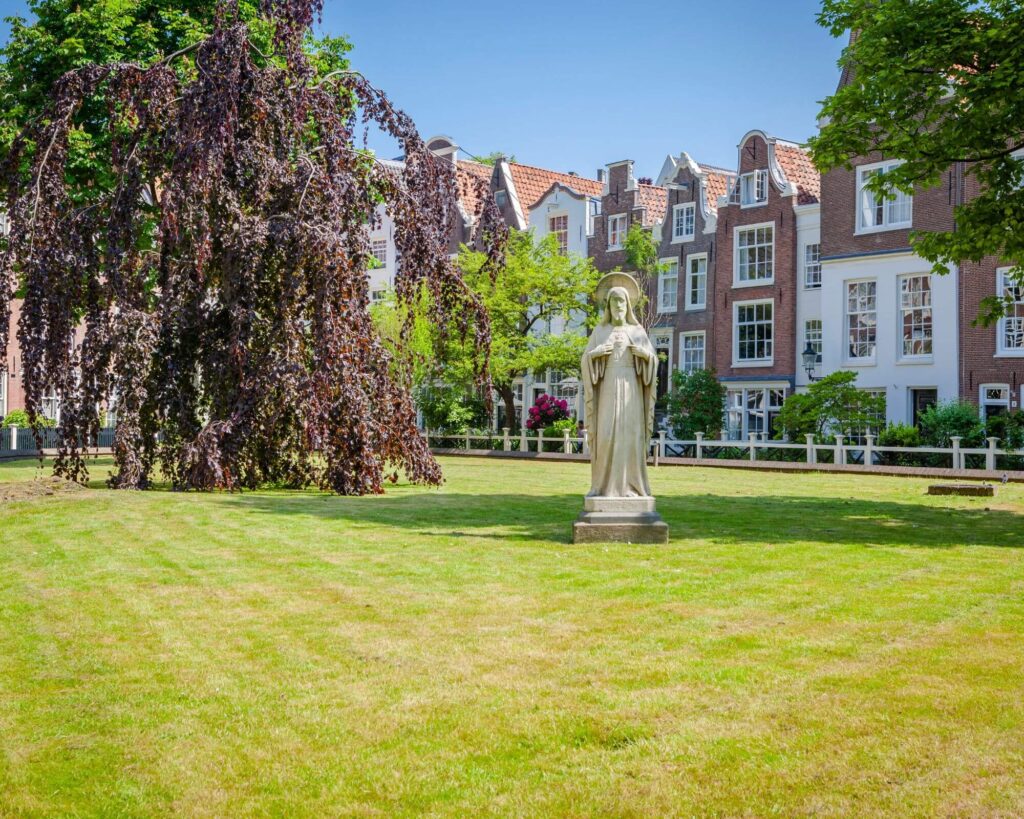 The Begijnhof in Amsterdam is a tranquil courtyard hidden in the center of the bustling city. It is a historical place surrounded by attractive houses and gardens. This tranquil spot provides an escape from the hustle and bustle of the city and houses a 14th-century English Reformed Church, making it a peaceful and picturesque attraction.
E. Royal Palace of Amsterdam
The Royal Palace of Amsterdam, located on Dam Square, is a grand and historic building. It is a former city hall and now serves as a royal palace. Tourists can admire its impressive architecture and sometimes even see its lavish interiors. This palace is a symbol of Dutch history and royalty.
These attractions, combined with the vibrant atmosphere of Dam Square, provide an all-round experience for visitors.
7. Jordan: Amsterdam's Hidden Gem
It's a cozy storybook-like neighbourhood with cute houses, little shops and friendly cafes.
When you walk in there, it's like going back in time and finding out what Amsterdam used to be like. The buildings have interesting stories, and you can see how people live their lives. You can stop at a café for something delicious and perhaps buy something special from a small shop. Jordan is a great place to slow down, enjoy the scenery, and see the real Amsterdam. It's like finding a hidden treasure that is waiting for you to explore.
8. Anne Frank House: A Window to History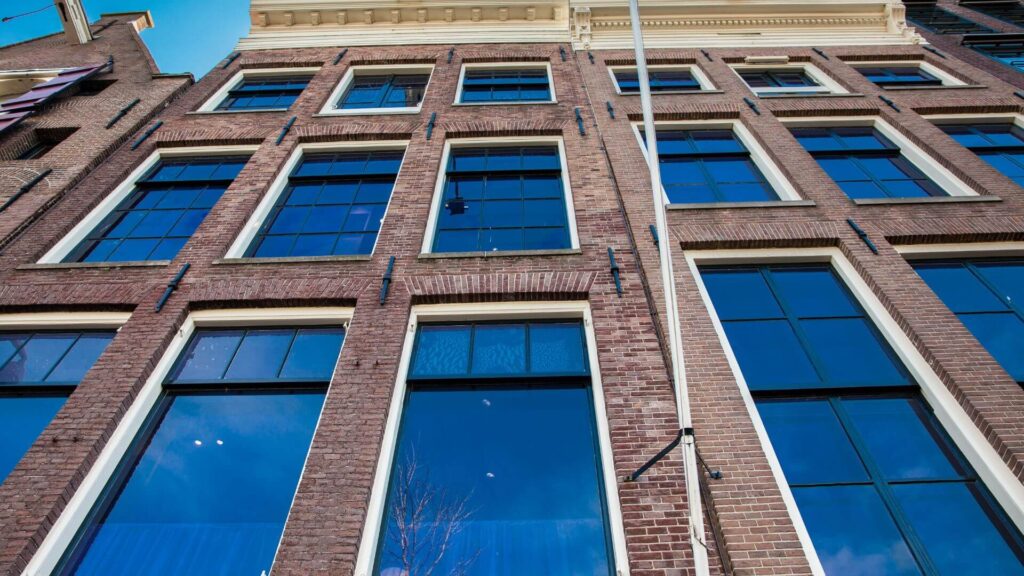 The Anne Frank House in Amsterdam is where Anne Frank and her family hid from the Nazis during World War II. Anne wrote a famous diary here. Now, it is a museum. You can visit the secret annex where they lived and see Anne's diary. It's a way to learn about the history of the Holocaust and Anne's life. You'll walk through the little rooms and imagine what it was like for Anne. It is a place to remember their story and the millions of people who suffered during that time, and that it is important to understand the past in order to build a better future.
9. Amsterdam Boat Tours: Seeing the City from the Water
Amsterdam boat tours offer a unique way to see the city from its picturesque canals. You board a boat and glide across the water passing beautiful old buildings, historic bridges and charming streets. It's like a floating sightseeing tour! You can learn about the history and culture of Amsterdam from your guide while enjoying the beautiful views. Some tours also include dinner or breakfast. It's a great way to relax and see the city from a different angle, making your trip to Amsterdam even more special.
10. Artis Royal Zoo: A Wildlife Adventure in Amsterdam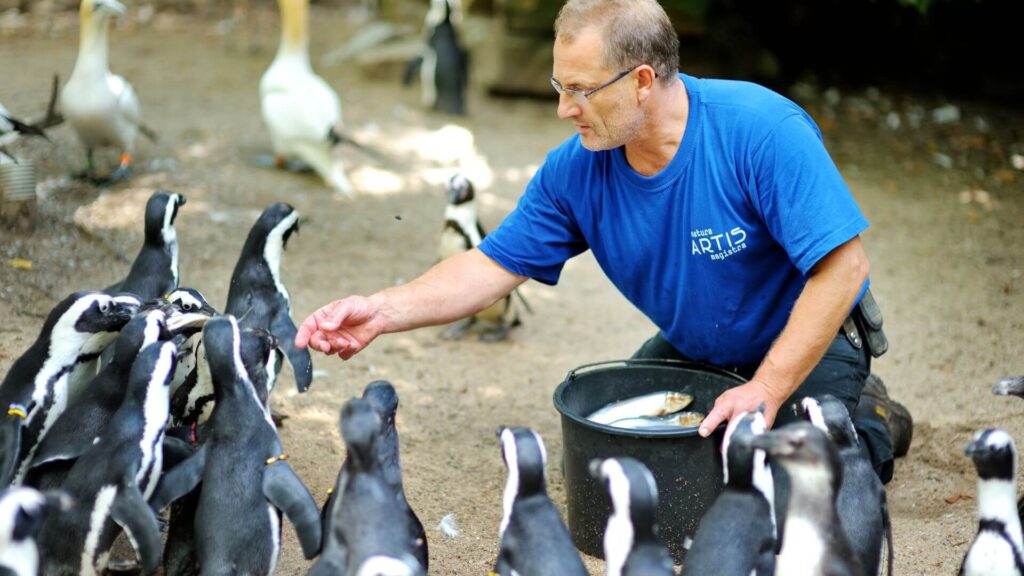 The Artes Royal Zoo is a famous zoo located in Amsterdam, Netherlands. It is one of the oldest zoos in Europe, built in 1838. This zoo is home to a wide variety of animals from around the world, making it a popular attraction for both locals and tourists. Visitors can explore and learn about different species of animals, as well as enjoy the beautiful gardens and historic architecture on the zoo's grounds. This is a great place to spend a relaxing day out with the family or discover wildlife.
Getting around Amsterdam with the Tram
Trams in Amsterdam are a convenient means of public transport, connecting different parts of the city. There are several tram stops in Amsterdam where you can board. Prices vary with options for single tickets, day passes and more. The tram provides a comfortable and efficient way to tour the city and reach popular attractions, providing excellent access to Amsterdam's vibrant neighbourhoods and cultural sites. You will also enjoy a tram ride while exploring the city.
Choosing the best accommodation in Amsterdam
When visiting Amsterdam, choose a hotel near a metro or tram stop for convenience. Even if your hotel is a little outside the city, having a metro station nearby will help you quickly reach Amsterdam or Amsterdam Central railway station. From there, you can easily catch a tram and explore the city in minutes.
Amsterdam's café culture is a beautiful way to relax and enjoy the city. You can enjoy delicious Dutch food and sip coffee in a cozy setting. These cafes have a warm and welcoming atmosphere that is perfect for taking a break. Whether you're chatting with friends or simply watching the world go by, it's a great way to experience Amsterdam. You'll find a mix of traditional and modern cafes, each with its own unique charm. So, if you want to imbibe the local flavour and take it easy, Amsterdam's cafes are the ideal place for it.
Types of Travel Passes in Amsterdam
In Amsterdam, there are mainly two main types of travel passes:
I Amsterdam City Card: I Amsterdam City Card: This pass offers a combination of free or discounted admission to several museums, attractions, restaurants, and public transportation services for a certain period of time, usually from 24 hours to several days.
GVB Travel Pass: This is a separate pass with a blue logo. It lets you ride buses, trams, metro and even ferries in Amsterdam, including the night bus.
You can get a GVB card for different periods of time, such as a few hours, a day or a few days, depending on how long you will be staying in Amsterdam. Think of it like a ticket that lets you use all of the city's transportation options.
What Makes Winter the Perfect Time for Amsterdam?
The Amsterdam Light Festival is a visual delight. The historic canals sparkle with spectacular lights, illuminating the heart of the city. It is a captivating phenomenon that adds a touch of magic to the winter nights.
Amsterdam's Winter Ice Skating: a Delightful Tradition
In winter, Amsterdam's frozen canals become a giant ice rink. Skaters from everywhere eagerly wait for this season to slide on the ice and create unforgettable memories. It's a unique and magical way to enjoy the city's winter charm.
Winter Markets in Amsterdam: A Cozy Celebration
Amsterdam's winter markets, especially the Christmas ones, are like big, happy parties. You can eat delicious dishes, find special gifts, and enjoy the festive mood during the holidays. The city is decorated with colorful decorations and happy music, making everyone feel warm and happy. Whether you're shopping for gifts or just enjoying the winter season, Amsterdam's winter markets are the perfect place to have a merry holiday season.
Conclusion
Amsterdam is a city of endless beauty and surprising contrasts. Its iconic canals and vibrant tulip fields create a rich tapestry of experiences. Cycling here provides both pleasure and fitness. Exploring these aspects of the city will deepen your appreciation of its culture, history and natural wonders. Whether you're planning a trip or just curious to learn more about this captivating city, Amsterdam is a must-visit. It offers something for everyone to enjoy.