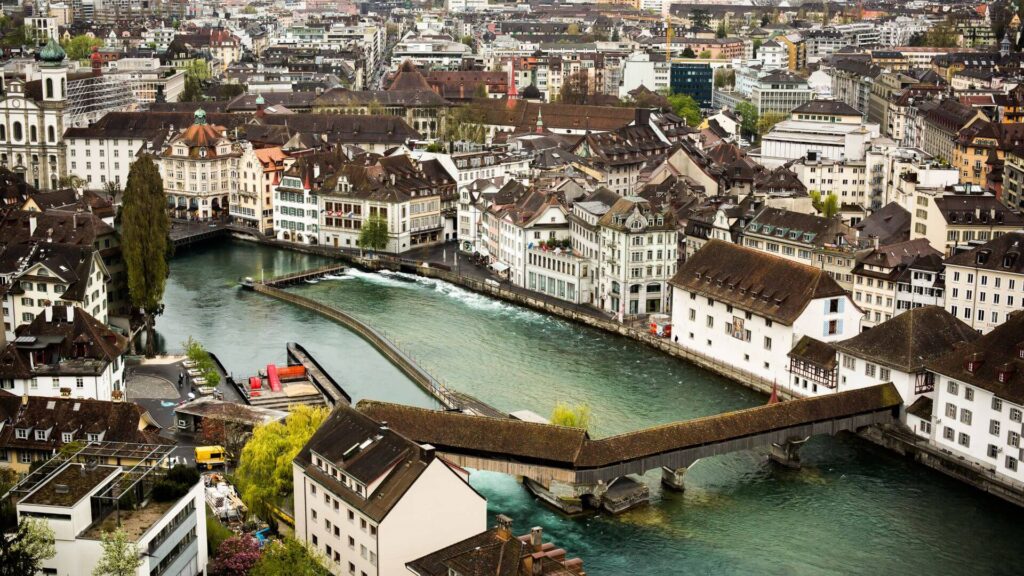 Located in Switzerland, Lucerne is a fascinating city with stunning natural beauty and rich history. Known as both Lucerne and Luzern, this place is famous for its breath-taking landscapes, tranquil lakes, the famous European mountain range (Alps) and delightful bridges. In this guide, we'll explore Lucerne's famous sights, delicious Swiss cuisine and vibrant culture.
These mountains offer a variety of activities, in winter, it is like a snowy wonderland for skiers. When the sun comes out, you can go hiking and climbing there. You will also find beautiful villages, flower fields and clear lakes. People from all over the world travel to the Alps because they are wonderful to enjoy in nature.
Lucerne's Top Attractions
Lucerne offers a variety of attractions, including mountain peaks, tranquil lakes, historic bridges, fascinating museums and a charming old town. Below, we will analyze each in depth to provide a better understanding.
To reach Mount Titlis, start by going to Engelberg. From there, you'll ride a cable car up the mountain. Once you get there, you can walk on the 'Titlis Cliff Walk', a spectacular hanging bridge with amazing views. Inside the mountain, there is a glacier cave worth visiting. You can also ride the 'Ice Flyer' chairlift for spectacular views. And if you want to have fun in the snow, there's 'Glacier Park' with things like snow tubing and sledding. Mount Titlis is like a snowy playground for everyone to enjoy
Mount Pilatus, near Lucerne, offers breath-taking Swiss alpine views. The best time to visit here is May to September (summer) and December to March (winter). You can reach it via the cogwheel railway from Alpnachstad or the cable car from Kriens. It's always best to check the weather forecast for clear views, and remember to dress warmly, as it can be cold at the summit.
Mount Rigi, which people fondly call the "Queen of Mountains", is a place with amazing views of nature. To get there from Lucerne, you just have to do two simple things. First, you take the train to either Vitznau or Arth-Goldau, your choice! Then, from there, you board a special train or cable car that takes you to the top of the mountain. It's like a fun ride, and when you reach the top, you get to see really beautiful nature. So, anyone, even kids, can have a great time enjoying the beauty of Switzerland at Mount Rigi.
Lake Lucerne, often called the heart of Switzerland, is a large and beautiful lake. It is surrounded by high mountains which look like giants. The lake is like a mirror, reflecting the mountains and the sky. People go there to ride boats, swim in the cool waters and have picnics on the shore. You can also take a fun boat ride to visit small, pretty towns like Weges and Vitznau along the lake. In winter, the lake area becomes magical with snow. It is a place where you can find peace and enjoy the stunning nature of Switzerland.
The Chapel Bridge is a special, period bridge in Lucerne, Switzerland. It's like a wooden bridge with a big tower in the middle that looks like it's from a fairy tale. This bridge is not just for crossing. This is to travel through time.
When you walk on it, you will see beautiful paintings inside. They're like old photographs that tell stories. But there is also a sad story about the bridge – a long time ago, part of it burned down, but they repaired it, and now it stands firmly.
Chapel Bridge is like a magical portal that takes you back to a time when knights and dragons were real. People come from all over the world to see this famous bridge, and it is like stepping into a storybook. So, if you want to feel the charm of yesteryear and see a piece of history, Chapel Bridge is the place to be in Lucerne.
The Lion Monument in Lucerne, Switzerland, is a special rock carving. It's like a big stone picture of a lion which looks really sad. This couplet is famous because it commemorates the brave soldiers who protected the French king a long time ago. The lion's face became sad as the soldiers did not return. People visit this memorial to pay their respect and remember the soldiers. You can also see the names of the soldiers on the memorial. This is a way of saying thank you and never forgetting their bravery. The Lion Monument is a place where you can feel the history and honour the heroes of the past.
The Musegg Wall is like a large, old fence that surrounds a part of Lucerne, Switzerland. It is very old, kind of grandfather to the walls, and has nine high towers. The towers are like castles! You can walk to the top of the wall and feel like a knight from a fairy-tale. From there you can see the entire city and beautiful mountains. The wall is like a time machine, taking you back to a time when knights and dragons were real. It is a nice place to visit and imagine the past. The Musegg Wall is like a big, ancient storybook waiting for you to explore.
Lake Lucerne cruises are like boat adventures on a large, beautiful lake in Switzerland. You board a comfortable boat, like a floating hotel, and it takes you on a ride. The best part is that you can see high mountains and beautiful cities from the water. It's like a magical journey without traffic jams! You can also eat delicious food on the boat. And sometimes, they play music or tell you great stories. It's a relaxing way to get around, like a floating picnic with spectacular views. Lake Lucerne cruises are perfect for enjoying Swiss nature and spending some peaceful time.
Lucerne's old town is like a magical storybook village. It is full of colourful houses, cobbled streets and cozy cafes. When you walk in there, it feels like going back in time. You can see old buildings with fancy decorations and learn about history. The Town Hall is like a castle, and the Chapel Bridge is like a picture from a fairy tale. People love to visit the old town, eat delicious Swiss chocolate and look at beautiful shops. It's a place where history meets charm, and every corner of it is like a page from a storybook waiting for you to explore
Engelberg is a beautiful city in Switzerland, surrounded by high mountains. It's like a nature wonderland. People go there in winter to have fun in the snow, skiing and snowboarding. In summer, you can go hiking and see beautiful waterfalls. There is also a monastery here which is really old and interesting to see. Engelberg is a place for adventure and enjoying the outdoors. It's like a big playground for nature lovers, where you can explore the mountains and forests and have a great time, no matter the season.