Forgiveness is a powerful tool for finding happiness because it enables us to get rid of angry feelings. When we forgive others we feel a sense of relief and inner peace as well we release ourselves from negative emotions and develop positive feelings.
By refusing to forgive others, we think we're hurting the other person, while in reality, we're hurting ourselves.
When we refuse to forgive someone who has hurt us, we often get stuck in negative emotions like anger, and bitterness and make us feeling sad and stressed, causing self-harm. In this case forgiveness is better. Forgiveness does not mean that we get too close to him or forget the past. Forgiveness is necessary so that we can keep ourselves calm or stress free. Never underestimate the power of forgiveness to restore peace and well-being, even in difficult times of conflict and hurt.
How to forgive someone who has hurt you once or many times
Should you forgive to that person who has hurt you once or many times, it depends on the situation. One big mistake of a person cannot be forgiven and many small mistakes of a person also cannot be forgiven, but if you think about that person all the time it will spoil your physical and mental health. If you always think about the people who hurt you, you will always be stressed because of them, while the stressors don't care or may have forgotten it themselves or here you are sitting with the same tension. The power of forgiveness can heal deep wounds and improve relationships.
Forgiveness for Mentally Relief and Inner Peace
It is difficult for you to forgive when someone hurts you but it's important because it helps you feel better inside. It doesn't mean that what they did was okay, but it's incredible how the power of forgiveness can make your heart feel lighter, peaceful and happy inside and help you move on from the past. It's like giving yourself the special gift of inner peace.
Do you know that not forgiving actually hurts you more than it hurts the other person as you are carrying his negative thoughts in your mind and heart and it may be bad not only for your physical or mental health but also for your valuable life.
Example- Imagine you are holding a glass of water in your hand. If you hold it for 20 minutes, you might feel a little bit of discomfort or pain, but it won't be too bad. However, if you hold it for 2 hour, your hand will start to hurt a lot more. But if you keep holding it for 10 hours, your arm and muscles will start to hurt so much that you might not be able to use your arm properly for some time.
Our worries and problems are like that glass of water. If we keep holding our tensions and worries for long time. It will spoil our physical and mental health. That's why it is important that we leave all our worries and problems in the same way as we leave a glass of water after drinking it.
Here are simple and short steps to forgive someone who has hurt you :-
Try to understand the situation – Always try to understand the situation from the other person's point of view as to why that person hurt you. What were their feelings and circumstances that made them do this? Understanding their perspective can help you let go of anger. The power of forgiveness transforms pain and anger into joy and peace.
Express your feelings – Many times we have listened that talk to that person who hurt you, but it's not that much easy as if we try to do it our self-esteem, ego and self respect come ahead, but If possible, try to ignore all these things (Self respect, ego and self-esteem) and express your feelings to the person who hurt you. It can improve your relationship.
Forgive for yourself, not for others – Forgiving someone who has hurt you is essential to your well-being. Staying angry only makes you feel worse. Forgiveness does not mean forgetting but letting go of bad feelings. When someone hurts us, overthinking doesn't help. This creates more stress. Learn how to stop overthinking and forgive for your peace and happiness.
How forgiveness can improve relationships
Strengthens relationships – It makes things right when they go wrong.
Builds trust – shows that you can forgive and trust again.
Conversation becomes easier – Forgiveness helps you open up.
Let go of resentment – free yourself from negative emotions.
Feel better inside – Forgiveness makes you feel happier.
Solves Problems – It helps you to fix problems thoroughly.
More understanding – You will understand each other better.
Less Stress – Forgiveness means less worry.
Love grows – It can make love stronger.
Happier together – Overall, this brings more happiness to your relationship.
When someone hurts us, it can make us feel bad and cause tension in our relationships. Forgiveness is the only way to release tension and stay positive. By doing this we build trust and a strong connection with the other person and we feel happy.
How do I forgive myself for past mistakes?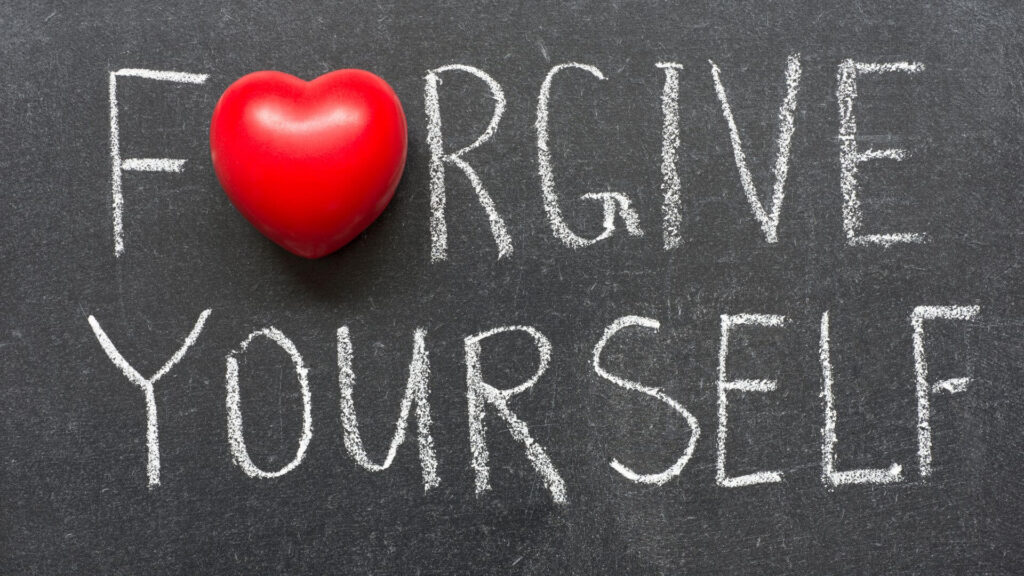 Here are some secret tips to forgive yourself for past mistakes:-
Acknowledge the mistake – Admit that you made a mistake. Avoid blaming yourself or others and understand that making mistakes is a natural part of life.
Never curse yourself for making a mistake – It is important to be kind to yourself and never beat yourself up for making mistakes. Everyone in the world makes mistakes and it is a natural part of learning and growing. Instead of dwelling on the mistake, try to focus on what you can learn from it and how you can do better in the future. Always remember –everything that happens has a purpose.
Apologize if necessary – If you made a mistake that hurt someone else, it's important to apologize and try to make things right. Saying sorry and taking responsibility can help you feel better and show that you care about the other person's feelings.
What benefits do you get from forgiving someone?
Better physical health
Improved mental health
Healthier relationships
Feels inner peace
Less anxiety and stress
Reduce depression
Stronger immune system
Improved heart health
Improved self-esteem
Forgiveness is:
A blessing
Personal growth
A sense of reliefe
Difficult and challenging process
Healing
A process
Mentally satisfaction
Powerful tool for self-growth
Personal choice
Not always easy
Internally Peace
Freedom
Forgiveness is not:
Weakness
Forgetting what happened
Excusing
A one-time event
Easy
ego
When you forgive others, you stop feeling angry and sad about what they did to you. If you forgive to others, you will feel better about yourself and your self-esteem and confidence will grow.
When we recognize the power of forgiveness, we understand that it is not just a gift to others, but a precious gift we give ourselves as well and it allows us to move on and live a happier.
Forgiveness heals relationships by letting go of negativity and moving forward with understanding.